Cockroach vs Water Bug
Metro Orlando FL | Kissimmee - Sanford - Leesburg
Cockroaches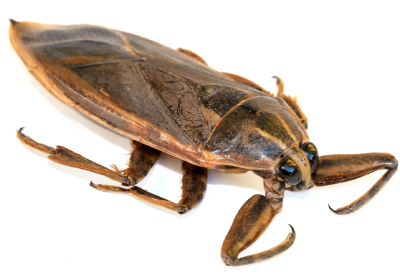 are one of the most feared insects. They're also commonly confused with an insect called a water bug! So much so that people often refer to Oriental roaches as waterbugs. Although these two insects resemble each other, there are many differences. The main thing to keep in mind is that water bugs are not a pest in the same way roaches are. To better understand what type of pest you may be dealing with in your Central Florida home, it's important to learn how to differentiate a cockroach vs. water bug. The cockroach exterminators at Heron Home & Outdoor are here to break down what to look for when it comes to roaches.
Is a Water Bug a Cockroach?
The water bug is a bug that looks like a cockroach, but isn't technically part of the roach family. A true water bug is—true to name—an aquatic insect that lives in the water. Waterbugs hold their breath for a long time without resurfacing. If handled, water bugs can bite in defense. However, they rarely enter homes and are not known to scavenge like roaches, making them a nonexistent pest problem.
The one cockroach that is commonly referred to as a water bug is the Oriental cockroach. These roaches look different from your typical American or German cockroach with their black, shiny bodies. Because they frequent pipes and plumbing, they are commonly called a waterbug.
Ready for your INSTANT quote?
Click the button below to leave your information and we'll be in touch with a free quote!
Water Bug vs Roach
While these two bugs can have a similar appearance, they differ in many ways that make it easy to tell them apart. Here's how to tell if it's a roach or water bug:
Water Bugs
True to their name, water bugs live in the water the majority of the time, typically in ponds and lakes.
Water bugs will hunt and kill other insects and small fish. They can also administer a painful bite.
Water bugs are large, with some species reaching 4″. Their body shape is flat, oval, and tan or brown in color. Unlike roaches, water bugs have clawed front feet, a piercing mouth, and short antennae.
Waterbugs have wings in an x-shape. These wings enable them to fly from one body of water to another in their mating season.
Cockroaches
Cockroaches commonly invade properties and hide in kitchens, bathrooms, basements, laundry rooms, and other damp areas in the home.
Roaches aren't known to bite. However, they spread germs and bacteria. They can also trigger allergies.
Roaches grow to be only 1–3 inches in length. They are also flat and oval-shaped and can range in color from red to dark brown or black. Roaches have longer antennae than waterbugs and hairy legs.
Some species of cockroaches have fully developed wings, but they are unlikely to fly. Other species have shorter wings, while some have no wings whatsoever.
Water Bugs vs Cockroaches in Central Florida
Florida is home to several roach species that can commonly be misidentified as a waterbug. If you are noticing similar-looking pests in or near your home, it's time to reach out to the local cockroach exterminators at Heron Home & Outdoor. Our experts know how to tell the differences between cockroaches and water bugs, and can administer the appropriate treatment to get rid of them. Contact us today to learn more!
Back to Cockroach Exterminators – Control – Removal
Cockroach vs Water Bug Serving Orlando and surrounding counties
Serving satisfied customers in:
Altamonte Springs | Apopka | East Orlando | West Orlando | Kissimmee | Leesburg | Orlando | Oviedo | Sanford
Orange County | Osceola County | Polk County | Seminole County | Volusia County
Flagler County | Lake County | Sumter County | Marion County